NEW! Women's Bible Study "IT'S NOT SUPPOSED TO BE THIS WAY" by Lisa Terkeurst Discover how a disappointment can be the divine appointment our souls needs to radically encounter God. Join us on a journey of faith to see our lives in the context of God's bigger story. Mondays at 9:30 am or 6:00 pm Beginning January 21, 2019 Please call Barb at 330-240-3715 BEFORE JANUARY 3! (WE NEED TO ORDER YOUR BOOK)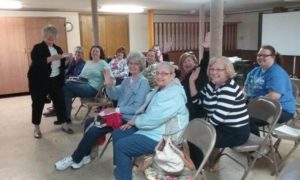 The Fall study will begin on

Sept 18, 2017

with a study by Lysa Terkeurst, UNGLUED. Lysa admits that she, like most women, has had experiences where others bump into her "happy" and she becomes emotionally unglued. We stuff, explode, or react somewhere in between. What do we do with these raw emotions? Is it possible to make emotions work for us instead of against us? Yes! This study will show us, with Biblical teaching, how to:
-know with confidence how to resolve conflict in important relationships.
-find peace in difficult relationships as we learn to be honest but kind when offended.
– identify reactors and improve communication.
– respond with no regrets by managing tendencies to either stuff or explode.
– gain a deep sense of calm by learning how to respond to "out-of-our control" situations.
We will order books for this study, so if you wish to join us, please call the church office
(330-637-5000) or "Barb" (330-240-3715) anytime before the end August for the next class, which begins on Monday, September 18, 2017.
. (We will let you know details as exact dates are determined.)
There is a place for YOU in this fellowship! We'll you save a seat. (…and bring a friend!)