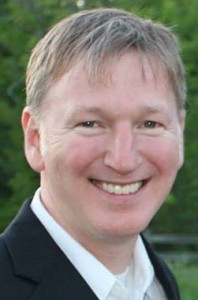 Pastor Jody Baker
Pastor Jody has served at WIldare since July 2014 as lead pastor. He and his wife Patti have been married 22 years and they have 3 children; Sage, PJ and Wesley. Jody desires to reach as many people as possible with the Good News of Jesus Christ. He has worked with people of all ages to share with them God's love and seeks to lead WIldare UMC to grow as a lighthouse of hope in a broken world. Jody has previously served at North Bloomfield UMC and at Garfield Memorial UMC as youth and children's pastor from 1999-2005. He received his Master of Divinity from Ashland Theological Seminary and was ordained in the United Methodist Church in 2009.

Roger Shaffer
Missions's Leader
Roger Shaffer has served as the Mission's Leader for Wildare Methodist Church. He has been part of organizing a number of mission trips locally and internationally. He has helped develop leaders that went in the mission filed. We are grateful to have such a dedicated man of God in our church.

Hope List
Office Manager
Hope List has been the Office Manager at Wildare Methodist Church since October 2007. She has been a valuable resource to our church and the ministries she has helped throughout the years. She is responsible for the weekly bulletin, answering phone calls, editor of the monthly newsletter, "The Wings" and in charge of organizing and coordinating office procedures.
Frank McCauley
Director of Youth
Contemporary Worship Team Leader
Frank McCauley has been apart of Wildare UMC since he was born. However, after graduating college in 2005 from the Dana School of Music, he began his teaching career at Hubbard schools and accepted the director of Music position at Howland UMC. He served at Howland as the worship leader and the director of the Chancel Choir for five years. In 2010 he accepted the director of youth position here at Wildare where he has served ever since. He is responsible for overseeing youth ministries as well as leading worship for the contemporary service. He currently resides in Sharon PA with his wife Sara and daughter Kensington and teachers music grades 7-12 at Sharon Middle/High School.

Bob Lewis
Trustee- Chairperson
As Trustees, our task is to be good stewards of what God has blessed us with here at Wildare Methodist Church. It is our task to look after the Church's properties. Some of our recent projects are: the connector and the parking lot. The Connector has become a wonderful common space for our congregation. The Church has also completed a parking lot resurface that will be a great improvement as we approach winter.